Lash X Artistry, Melbourne Salon
Face to Face Eyelash Extension Courses
The Most Comprehensive Courses
MASTER TRAINER
WITH OVER 10 YEARS LASH TRAINING EXPERIENCE
FULL DELUXE LASH KIT INCLUDED
WITH ALL LASHING COURSES
INTEREST FREE PAYMENT PLANS
FROM $25 P/W
DEDICATED STUDENT DEPARTMENT
24/7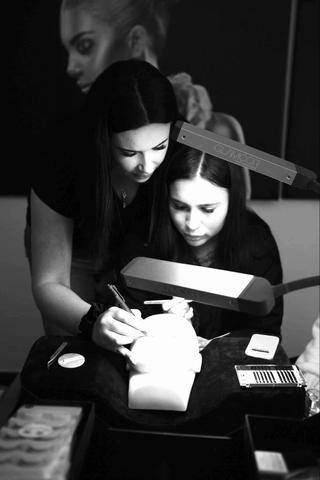 CLASSIC & RUSSIAN LASH VOLUME FOR BEGINNERS

The Lash X Artistry 2 Day Masterclass with our Master Trainer & Assistant Trainer
WELCOME TO LASH X ARTISTRY & ACADEMY'S FACE TO FACE EYELASH TRAINING COURSE
Two Days Classic & Russian Volume Lashes For Beginners - $2400 incl GST.
This includes all the products and tools you need to complete your training!

Learn how to enhance your clients natural beauty with gorgeous, enhanced eyelash extensions on a live model. It is your responsibility to source models. Day 1, you will learn how to apply classic lashes and day 2 you will learn how to make and apply Russian Volume lashes.
Certificate upon completion once satisfactory industry competence is demonstrated. 

WHAT YOU WILL RECEIVE
Class taught by our master trainer with over 10 years or experience in lash extensions.
Class of 3 to ensure you get the attention you deserve with a trained assistant.  
Deluxe lash kit & mannequin so you can practice long after your class is over.
24/7 support with online chat & a Facebook group for all students for support!
Take home training manual.
Discount off all our lash products as a certified eyelash technician
LUNCH IS PROVIDED!
Monday - Classic Eyelash Training
Tuesday - Russian Volume Lashing Training
NOW ENROLLING FOR FEBRUARY - JAN IS SOLD OUT
.
Private salon in Berwick, Vic.
Payment plans from $25 per week or ZipPay and Afterpay available
Framed Certificate upon completion.
*$300 deposit is required
WHAT YOU WILL LEARN IN YOUR EYELASH TRAINING COURSE
- Safety & hygiene
- Allergic reactions
- Different types of lash extensions
- Thickness and length
- Eye shapes & eye styles
- Designing the length and look
- What eyelash extensions are made from
- Lash growth cycles
- What can cause damaged lashes
- Lash infections, diseases and disorders
- Allergic reactions
- Room temperatures and glue humidity
- Aftercare
- Eyelash extension removal
- Refill process
- Contraindications
- Business mentoring

Lash Application
- Cleansing & taping
- Lash Mapping
- Isolation and application
💳 The Payment plans are from $50 weekly with no credit checks or interest charges - EVER! ZipPay, After pay, HUMM and StudyLoan are available!!
✅ We are now integrated with StudyLoan! EVERYONE IS APPROVED! Whether you have bad credit, new job, or are on centrelink!
Fill out this form and we'll contact you ASAP!
Want 25% off of any course we offer?
Just enter your email below and we'll send you a $x coupon to use when you enrol! ❤️
Offer available until 31st January ONLY.
Thanks! Your coupon will arrive shortly!